E-A-Rfit™ Dual-Ear Validation System
Measure employee's level of hearing protection and take the guesswork out of managing your hearing conservation program with the 3M E-A-Rfit™ Dual-Ear Validation System.

The 3M E-A-Rfit is a service program designed to help validate hearing protection and compliance. It delivers an objective, quantitative measurement of each employee's protection, so you can better protect your workforce while helping employees understand the importance of proper fit.
With the E-A-Rfit Dual Ear validation system, your employees will learn how to properly fit their 3M earplug or earmuff, and you'll have the confidence knowing that they are wearing the right protection for their environment.
The 3M™ E-A-Rfit™ Validation System is fast, quantitative, objective and provides a Personal Attenuation Rating (PAR) for each worker. Test results are documented for each subject and can be printed and saved electronically for future reference as well as for compliance monitoring and reporting. 3M provides free online training and user support and the 3M™ E-A-Rfit™ Validation System includes software, speaker and impact resistant carrying case.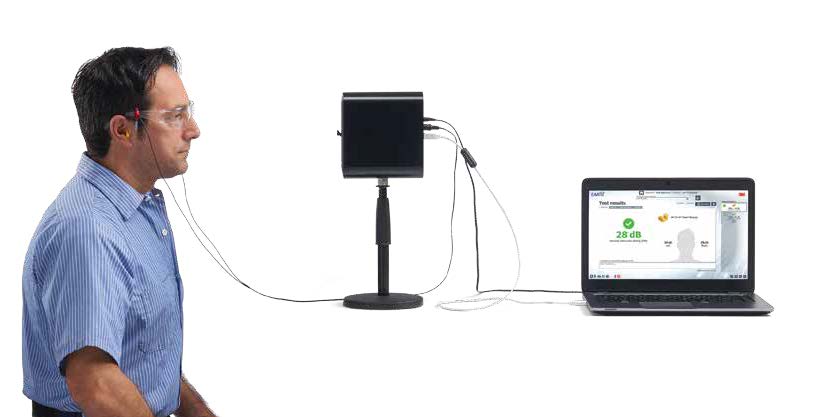 The 3M™ E-A-Rfit™ Validation System is easy to operate.
Workers self-fit their own earplugs or ear muffs


In less than 5 seconds, the system generates a personal attenuation rating (PAR) that indicates a worker's noise reduction levels for a given fitting

Advantage: Reflects an individual's fitting methods and indicates if additional training is necessary in hearing protection fit testing.


Connect the unique dual-element microphone
The microphone measures the noise reduction of each earplug or earmuff as worn by the worker across the wide range of industrial noise frequencies.
Advantage: Objectively tests 7 frequencies (125 Hz - 8 kHz) in under 5 seconds per ear, so you don't rely on subjective test responses.nnect to the unique dual-element microphone

Run the test for Personal Attenuation Rating (PAR)


Patented system and proprietary algorithms quickly analyse real-ear data to provide Personal Attenuation Rating (PAR) and fit variability.

Advantage: PARs can assist in determining if the level of hearing protection your workers are getting is appropriate to their work environment.

Documented Results: Easy-to-understand test results are documented for each test subject, both in print and electronic formats, for future reference.
The 3M™ E-A-Rfit™ Validation System is now available from Air-Met for sale only. Contact us today for more information.
Tests both ears simultaneously in less than 5 seconds
Earmuff and Earplug testing capability
Tests at 7 standard frequencies - 125Hz to 8000Hz
Science-base, objective, quantitative testing
Measurements Computed
Octave Band Data Computed In:

125 Hz, 250 Hz, 500 Hz, 1000 Hz, 2000 Hz, 4000 Hz, 8000 Hz

PAR
Personal Attenuation Rating
Frequency Weighting
A
Mechanical Specifications
Speaker Housing
Aluminum, black material
Speaker Size
6.5" long x 3.75" width x 6" depth;


2.54cm long x 9.5cm width x 15.24cm depth

Speaker Weight
3.1 lbs; 1406.1 grams
Speaker Status Indicators

LED Red blinking Indicator Light – signifies USB is not connected. It will disappear when connected successfully.

LED Green Indicator Light – signifies power is on.
Operating Conditions
Voltage
120 to 240 VAC
Frequency
50-60 Hertz
Current
250 mA
Altitude
3000 (maximum) meters
Operating Temperature
5 °C to 40 °C (41 °F to 140 °F)
Relative Humidity

80% for temperatures up to 31°C (87.8 °F) ; decreasing linearity to 50% at

40°C (140 °F)

Voltage Range
12 Volts DC
Transient Overvoltage
Impulse withstand (overvoltage) category II. Rated pollution degree 2.
Applications include:
Hearing conservation program compliance monitoring and reporting
Workplace health and safety noise monitoring
Recommended industries include:
Transportation
Pharmaceutical
Construction
Automotive
Military Maintenance
Repair and Operation (MRO)
Mining
Food and Beverage Manufacturing
Metal Fabrication
Oil & Gas
General Manufacturing;