The Difference Between Docking Station & Service Centre Calibrations
Docking Station Calibrations vs. Service Centre Calibrations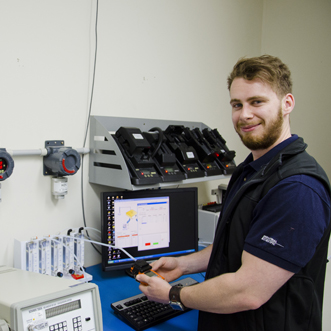 With the increasing capabilities of instrument docking stations allowing portable gas detection users to calibrate, dock, conduct bump tests and more, is it necessary to send portable gas detectors into service centres for calibration and servicing?
Is there actually a difference between a docking station calibration and a calibration performed by your local service centre?
Instrument docking stations are an ideal way to ensure that serviceable, calibrated instruments are readily available to workers whenever required. Docking stations also provides a means of record keeping that helps to ensure compliance to standards and best practices. The way a docking station calibrates a gas detector, i.e. applies gas to an instrument and adjusts the instrument to the certified levels of the applied gas is "technically" the same process that is used in most service centres; what docking stations can't, and don't, do is:
Instrument Condition Assessment
An automated calibration system is able to test and adjust sensor response to gas but can only perform very basic diagnostics on the instrument. They are simply incapable of checking very important items such as:

Filter / water barrier condition

Screen legibility

Instrument enclosure inspection for IP rating integrity

Audible alarm volume, visual and vibrating alarm functionality.

Independent Party Calibration
This can either verify the efficacy of the docking station system calibrations or highlight potential areas of concern. Faults in an instrument docking station, or docking system, can be exposed in this way and this verification of the users' in-house calibration regimen is an important part of compliance to an overall QA system.

Preventative Maintenance


As Australia's only accredited service centre for Industrial Scientific, Air-Met Scientific is able to provide service that extends past the capabilities of users and other, non-accredited service providers. Preventative maintenance includes:

Sensor age assessment and replacement before in-service failure

Filter / water barrier replacement

Application of manufacturer issued service bulletins

Instrument firmware upgrades

High-level repairs in accordance with manufacturer's service manuals


Instrument Docking Station Service And Maintenance
QA system auditors, when reviewing an automated calibration system, often ask "Who calibrates the calibrator". As an Accredited Service Centre, Air-Met is able to provide a full calibration, repair and functional test of the docking stations themselves.

Optional Fully Traceable Calibrations
Air-Met Scientific is NATA accredited to the requirements of ISO/IEC 17025 for the calibration of gas detection equipment and, on request, can provide a NATA endorsed, multi-point, calibration report that is traceable to national standards; augmenting the users' own in-house processes and providing a higher level of quality assurance.
A simple analogy to help gas detector users understand the difference between a docking station calibration and a service centre calibration could be:
Most people have the ability to change the oil, check the brake fluid and tyre pressures in their car but does this mean the service they are performing is as good as the service that would be performed by the vehicle manufacturer's authorised service provider?
Regular user level maintenance of any car is important to the smooth operation and life-span of the vehicle but should be supplementary to a full service by an appropriately qualified technician. Likewise, the regular calibration and bump testing of portable gas detectors is essential in ensuring the serviceability of the instruments but should be viewed as supplementary to the service provided by a suitably trained and authorised service centre.