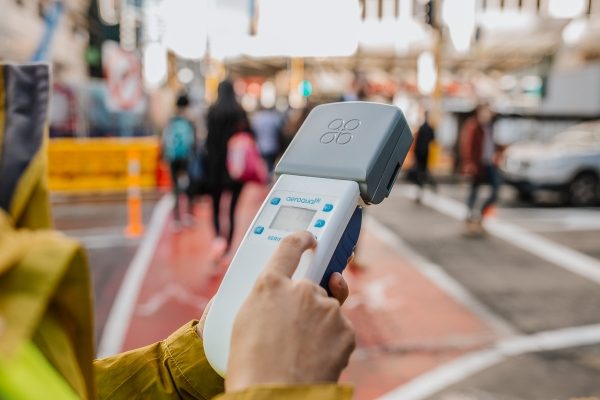 NEW | PM10 / PM2.5 Portable Particulate Monitor
NEW | PM10 / PM2.5 Portable Particulate Monitor
Air-Met is excited to announce the release of the Aeroqual Portable Particulate Monitor for the simultaneous monitoring of PM10 and PM2.5.
For more than a decade the Aeroqual portable monitor range has been trusted for accurate and affordable measurement of gaseous pollutants. Now you can use the very same Series 200/300/500 monitors to measure particulate matter (PM) too, thanks to the introduction of the PM2.5 & PM10 sensor head.
What does it measure?
The Aeroqual Portable Particulate Sensor Measures:
Particles 2.5 microns and less (PM2.5)
Particles 10 microns and less (PM10)
The PM sensor head plugs into Aeroqual's existing range of Series 200/300/500 monitors all of which can be used to measure the following range of gases and environmental conditions:
Ammonia
Carbon Dioxide
Carbon Monoxide
Chlorine
Formaldehyde
Hydrogen
Hydrogen Sulfide
Methane
Nitrogen Dioxide
Ozone
Perchloroethylene
Sulfur Dioxide
Volatile Organic Compounds
Temperature and Humidity.

The new PM2.5 & PM10 sensor head clips into the Aeroqual monitor base, just like the existing range of gas sensor heads. At any time one sensor head can be swapped for another. The changeover takes seconds and no configuration or calibration is required. It also makes servicing easy – simply send the sensor head to the service centre, rather than the whole instrument.

How is the Aeroqual PM sensor different?

What makes the Aeroqual PM sensor different is the attention to data quality that Aeroqual designs in to all our instruments. Our customers will benefit from the following features:
Precision active sampling
Fast T90 response time
Humidity compensation
K factor adjustment (Series 300, 500 models)
Compatibility with a wide range of gaseous measurements.

Together, these features allow the PM sensor head to deliver surprisingly accurate real-time data when compared to instruments that cost 20-30 times more. In head to head field tests with traditional EPA-approved analyzers, the PM sensor has shown r2 correlations of 0.84 (PM2.5) and 0.81 (PM10).

The PM sensor head has been designed specifically for those who need to gather particulate pollution data quickly and cost effectively. Typical users might include health and safety managers, researchers, air quality agencies, and environmental consultants. Designed to be held in the hand, Aeroqual portable monitors are intended for shorter term use – gathering data over a few minutes up to 24 hours at multiple locations.