Introducing The New Ventis Gas Detector Slide-On Pump
Introducing Industrial Scientific's New Ventis MX4 & Ventis Pro Series Slide-On Pump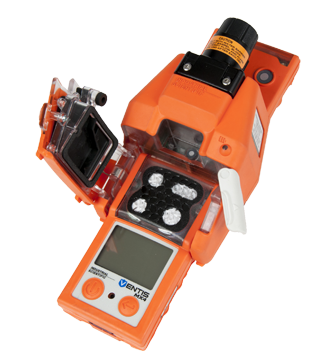 Allowing workers to use one gas detector for multiple applications.
Air-Met Scientific is please to introduce a new version of the Industrial Scientific Ventis™ Slide-on Pump. The new pump is compatible with both Ventis™ MX4 and Ventis™ Pro 4 and Pro 5 Series Multi-Gas Monitors and is ideal for workers who typically wear their gas monitors for personal protection but occasionally require a pump for confined space entries or remote sampling applications.
The Ventis Slide-on Pump reduces the need for workers to carry two or more gas detection instruments at one time.
Additional benefits of the Ventis Slide-on Pump include:
Convenient sampling - Draw air samples from up to 50 feet away
Easy set up - No tools are required to attach or remove the pump from the monitor
Interchangeable batteries - Monitors and pumps use the same type of battery packs and chargers making them easy to exchange
"The Ventis Slide-on Pump gives workers more flexibility in the field," said Josh Futrell, senior product manager, instrumentation. "Making it compatible with the Ventis Pro, one of the most versatile, user-friendly instruments available, is a great step toward keeping workers focused on the job at hand rather than managing excess safety equipment."
Click here for more information about Air-Met's portable gas detection range.