Congratulations To The Air Sampling iPad Air 2 Promotion Winner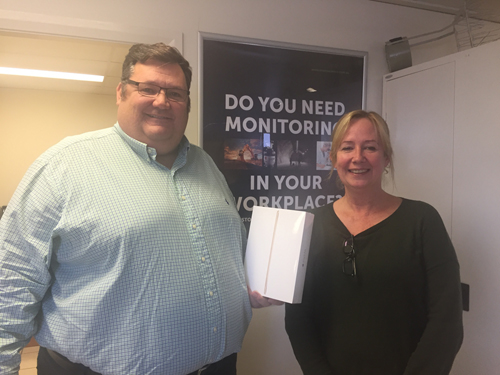 And The Winner Of The Win An iPad Air 2 With Selected Air Sampling Pump Purchases Is...
Juliet Duffy from Regional Enviroscience in Dubbo, NSW.
Congratulations to Juliet, CEO of Regional Enviroscience in Dubbo NSW who was the lucky winner of our Air Sampling Pump iPad Promotion! Juliet purchased a range of air sampling equipment including the SKC PCXR8 Universal Air Sampling Pumps. Regional Enviroscience are experts in identifying and dealing with asbestos and other hazardous materials to ensure the health and safety of your workers and have more than 20 years of experience combined.
With her busy schedule, Juliet has been a very hard woman to track down and after great efforts, our NSW State Manager Jason Foster has finally been able to personally delivery the winning prize!
Congratulations once again and we hope you enjoy your new iPad Air 2!
Image: Jason Foster, NSW State Manager with winner Juliet Duffy, CEO of Regional Enviroscience.