Maximise Low Flow Sampling Efficiency with Geotech Bladder Pumps
Low flow sampling in the field requires time and expertise. So don't rush it and take your time!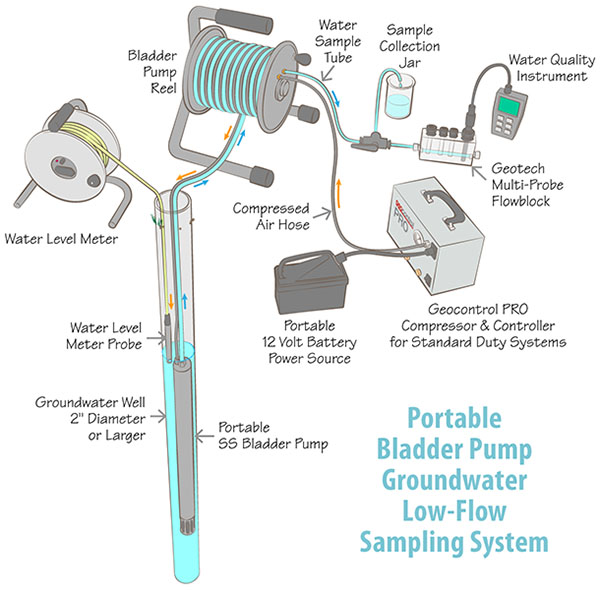 To maximise low flow sampling efficiency in the field, many parameters must be met in order to produce the best outcome. Your pumping system for example must minimise drawdown and turbidity.
Well parameters need to be monitored for stabilisation and the sampling flow rate must be adjusted accordingly in order to achieve the best possible sample catch rate. Additionally, not all wells share the same characteristics and sites do vary considerably. Having the right tools available to your team will make a significant difference in your low flow sampling efficiency.
Designed in conjunction with the USGS, the Geotech (standard duty or high pressure) Bladder Pumps are an innovative modular design made for long term reliability and 100% field friendly serviceability. They offer a higher range of flow yield for even better performance. Geotech uses only premium 316 grade electro polished stainless steel and proprietary PTFE bladder material. Geotech also manufactures matching pump controllers to meet your needs. The Geotech BP300 controller is a perfect match for the (standard duty) system and the Geotech BP500 is well suited for the high pressure bladder pump for sampling to depths of 1,000 ft (304.8m). If the application depth is less than 200 ft., the Geotech GeoControl Pro is another option for use the standard duty pump when ultimate portability is required.
Features
True low flow capability for less agitation

Proprietary resin grade virgin PTFE bladder for long life

Constructed of #316 SS for durability

Dedicated or portable turnkey systems

Robust screened intake extends bladder life

Designed for wells as small as .75" (1.9cm)

Optional Drop-Tube assembly available for sampling from greater depths
Limited lifetime warranty on dedicated stainless steel systems

Compatible with the Geocontrol PRO and BP Controller units
For more information about Geotech Bladder Pumps, click here.